The Red Wedding Day for the CW has ended and it was, in fact, a blood bath.
And … I want to stress this… Things are looking nigh impossible to get any of these back.
And I scream at the top of my lungs…
Before I get into this, it's important to note why so many things were canceled.
The CW, as I mentioned before, has never been profitable as a network. Overall, this wasn't actually a bad thing as they made their money in rebroadcast rights. In other words, Netflix's deals (where right after the season ends, they have the whole thing on Netflix) was bolstering CW. 90% of the cancellations this year are due to the fact that the deal? Is over.
Why is it over? HBOMax and Paramount+. Remember that CW is a combination of CBS and Warner Bros. CBS has Paramount+ for their stream and it's doing pretty well. Warner Bros has HBOMax which, also, is doing pretty good. Also Netflix is bleeding subscribers left and right due to some questionable actions (does anyone think commercials are a good idea? Peacock, I'm looking at you), and are cutting back.
Tangentially related, Netflix recently told their employees that if they don't approve of the content Netflix produces, they should quit. This has been painted as a 'anti Woke' move, but I saw it as a 'pre layoff' move. See, if you quit, they don't pay severance. But if they lay you off… Right, you got it. Well on the 17th (the day before this post went up) Netflix laid off around 150 people.
On top of that, we have the other 10% of cancelations, which are Batwoman and Legends of Tomorrow, who are in a weird place. Turns out no one wants to pay for their studios. Bonus? Thanks to the 2011 Netflix deal, all those canceled shows are stuck in that same streaming hell of a show I loved (and the other night dreamed there was a secret episode), One Day at a Time.
For what it's worth, though, I don't think this is a queer specific event. I think this is the fallout from the Peak TV Bubble being popped.
(Oh and yes, Riverdale is still on that Netflix deal, so that explains that weird decision.)
I said hey hey, hey hey…
Okay, let's get to the breakdown. First, here are ALL the shows on the CW, since Arrow was new.
Show
Began
Ended
Regular
Queers
Emily Owens, MD
2012
2013
Yes
Beauty & the Beast
2012
2016
No
Arrow
2012
2020
No
Reign
2013
2017
No
The Tomorrow People
2013
2014
No
The Originals
2013
2018
Yes
Cult
2013
2013
No
The Carrie Diaries
2013
2014
Yes
Jane the Virgin
2014
2019
Yes
The 100
2014
2020
Yes
Star-Crossed
2014
2014
Yes
The Flash
2014
Renewed
No
Crazy Ex-Girlfriend
2015
2019
Yes
The Messengers
2015
2015
No
iZombie
2015
2019
No
Supergirl
2016
2021
Yes
Frequency
2016
2021
No
No Tomorrow
2016
2017
Yes
Containment
2016
2016
No
Legends of Tomorrow
2016
2022
Yes
Valor
2017
2018
Yes
Riverdale
2017
Renewed
Yes
Dynasty
2017
2022
Yes
Life Sentence
2018
2018
Yes
Black Lightning
2018
2021
Yes
All American
2018
Renewed
Yes
Charmed
2018
2022
Yes
Legacies
2018
2022
Yes
Batwoman
2019
2022
Yes
Pandora
2019
2020
Yes
Roswell, New Mexico
2019
2022
Yes
In the Dark
2019
2022
Yes
Two Sentance Horror Stories
2019
TBD
N/A
Nancy Drew
2019
Renewed
Yes
Katy Keene
2020
2022
Yes
Stargirl
2020
Renewed
No
4400
2021
2022
Yes
The Republic of Sarah
2021
2021
Yes
Walker
2021
Renewed
Yes
Superman & Lois
2021
Renewed
Yes
Kung-Fu
2021
Renewed
Yes
Naomi
2022
2022
Yes
All American: Homecoming
2022
Renewed
Yes
Tom Swift
2022
TBD
Yes
Since someone will point it out… Supergirl began in 2015 on CBS, but this is it's CW era. Also Tom Swift stars a gay male lead and begins next month. Also Two Sentence Horror Stories is a special thing, as it's an anthology (and has only had one episode with lesbians, it was cute).
It's a big list! 44 shows! And since the start, CW has been pretty even with how many shows they have on air. The peak was 2019. But we want to get an idea of the cancel/new ratio. Ideally this would be a flat line, right?
| Year | New Shows | Canceled Shows |
| --- | --- | --- |
| 2022 | 4 | 9 |
| 2021 | 5 | 3 |
| 2020 | 2 | 6 |
| 2019 | 6 | 3 |
| 2018 | 5 | 3 |
| 2017 | 3 | 4 |
| 2016 | 4 | 2 |
| 2015 | 3 | 2 |
| 2014 | 4 | 3 |
| 2013 | 5 | 4 |
| 2012 | 3 | 4 |
Or in graphical form: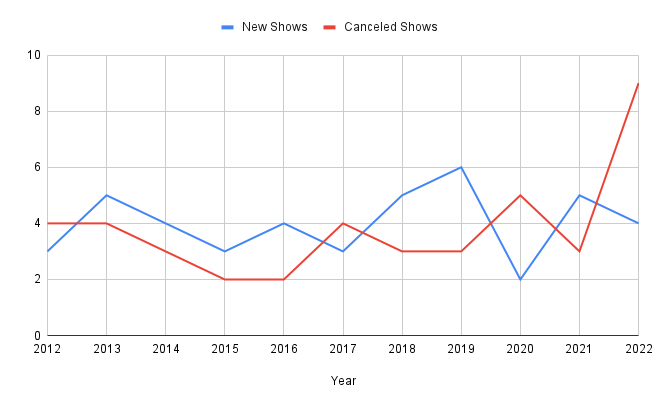 But… we're a queer oriented website. So what we want to know is the percentage of new shows with queer regulars.
And I'm feeling a little peculiar
Back to that massive table, we can get an idea how often new shows with queers are added. So this is a list of how queer are the new shows: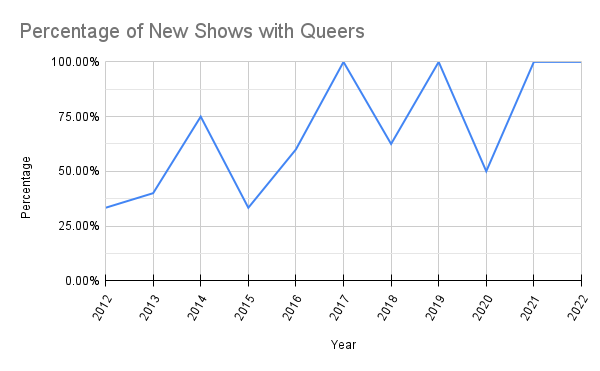 And that is actually really good. After 2016, it's been great. But… If you look a the other side…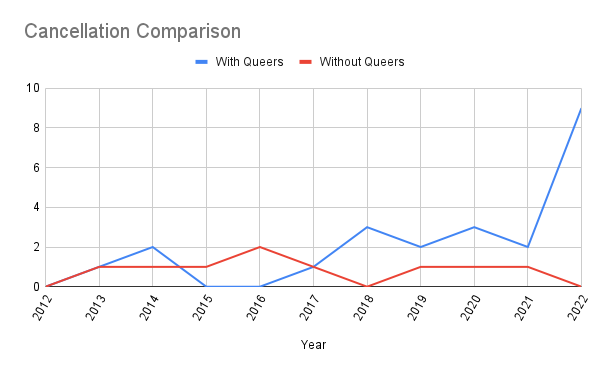 Logically that number of shows with queers goes it. It has to, as 68% of new shows on the CW every year were queer and only ~50% canceled are queer. If fewer shows with no queers are added, naturally that number goes up. And if you're dumping over half your shows in one go, yes, it makes sense many will be queer (if not all).
But… what about quality?
I try all the time in this institution
There's a caveat to this section. See, we don't have scores per year. We have a show score that is cumulative for the entire run of the show. Which means the only way to really measure is to collect the scores of the shows today.
Looking at just the 2021-22 season, this is a comparison of show scores: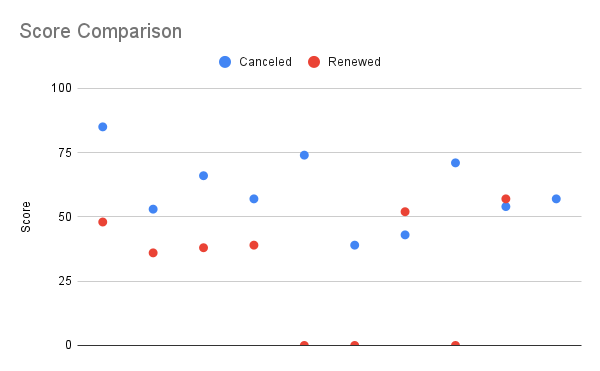 The blue dots are canceled shows, the red are the ones on air. Notice something?
With very few exceptions, everything canceled scored higher on our scales. I will note that shows like Kung-Fu and Walker are a 0 because they don't have any queer females (just gay men), and there is nothing wrong with that, it's just not what we're bathing out. If we did, I would say those two shows would be a little higher. Well, Kung-Fu would be. Like it's inspiration, Walker is a bit of a straight guy sausage fest.
What's Going On?
I wanted to go into this and shout AH HAH! because I could prove that the CW targeted specific shows, that these streamer deals were less advantageous to certain shows, or that it was clear that the biases of gender and sexuality were running rampant.
I can't.
I'm a little cheesed about that.
The summation I came to with all this, though, is that the CW is, for whatever reason they concoct, going to lose all the quirky, silly, diverse, tongue-in-cheek shows that we've loved. There won't be a network home for a American Telenovela, and there won't be one for a time-traveling bisexual assassin.
And since none of these got picked up, nor would I expect them to be, by another network, the bubble absolutely is popping. Get ready for more boring procedurals (be they cop or medical), and fewer comics. The CW is going back to the bad days where, Beebo help me, 100% of their shows killed queers, instead of these nice ones where they star them.
Fare thee well, CW. You did pretty good for a decade.