Instead of going to the pre-filmed San Diego Comic-Con, DC pulled out entirely and spun up their own thing. When you hear that, you think "Are you insane?" Why would anyone want to roll their own instead of the common collective? And then you want to put up 48 hours of content and give people 24 hours to watch it!?
Surprisingly enough, it actually worked out. In fact, I'm going to say it worked out better than SDCC Online. DC woke up to common sense, split their Fandome into two separate events (TV and Movies on different days!). This still left everyone with gobs and gobs of content to watch, and figuring out what was queer and what wasn't? I couldn't do it before watching, and worse everything was only available for 24 hours.
I will say the biggest reason I think this was more successful? Closed Captions! I do a lot of transcription for this site (and others), and I'm going to be honest here, my hearing is not what it was. Closed Captions are immensely helpful for me! They're also the bare minimum you can do for inclusion of Deaf or Hard of Hearing fans. They love your content, please keep captioning. In addition, the inconsistent editing issues from SDCC did not exist, which was really a blessing. It felt well organized and compiled.
So instead of a recommended schedule and bunch of followups, you're going to get this recap post. Of course, there is Batwoman, and she gets her own post because I'm the biggest Batnerd on the staff.
The moral arc of the universe bends towards justice.
— Martin Luther King Jr.
Actor/filmmaker Robert Townsend moderated the panel, playing homage to the 90s (seriously everyone was dressed up) and talking about when things were lit. The cast talked about the importance of people supporting them (family) and of representation. Just seeing Sidney Poitier on the screen is why we have Cress Williams. But it also takes a lot of hard work, courage, and determination to stand up and do what it takes to be an actor (especially when you're black and female).
They also spoke about the current state of the world (pandemic, quarantine, BLM). If you've watched Black Lightning you know the show doesn't shy away from being political. The actors on the show do so as well, reflecting again the need for that representation. We have to be able to see ourselves, but for White people, we need to see other people and other stories. Opening our eyes to the world as it is, and having that mirrored on television will help shape us as a society. And we have to keep working.
All of those things are why people like Black Lightning. It's a show that speaks to us, that turns the camera to the truth of living in America, and resonates with everyone. It lets people learn what it's like for others in a way that isn't preachy or over the top (well, as much as a superhero show can be).
And of course … Thundergrace.
Nafessa wants to keep seeing the show be relevant, to keep abreast of the world and what's happening in it. At the same time, it would be on fire if Gambi finally made Grace her own supersuit! She also answered a question, if we would get to see a ThunderGrace Wedding. As she laughed, Nafessa said she tried and they almost got there. Their love is complicated but Nafessa absolutely wants to see it.
This panel was the shortest (20 minutes) but also came with a warning. Which is fair, since it started with a lot of cursing.
For those of you who slept on the show, it's a cartoon for adults, and in season two they give us #harlivy — yes, that's right, TV canon now has Harley and Poison Ivy as a couple. While that's been true in the comics for a long time, having it be explicit (and we do mean explicit) on screen is meaningful.
The journey of Harley has always been important. She starts out as Joker's sidekick/abused girl-toy. While it's clear she loves him, he doesn't love her the same way and treats her pretty terribly. In this story, Harley has had her fill with Mistah J, and ends up in bed with Ivy. And Ivy actually cares about Harley, and trust Harley with her life… just not her heart.
It's complicated, right?
"It is unusual," said Lake Bell (Ivy), "because we're not in the room together. So we kind of fall in love through this weird virtual experience."
They also swear. A lot. It's wonderful. No one can believe they let them get away it, and yet they get lines like "So this is the Bat Cave! And that must be where you f**k the bats!"
We still don't know if we'll get a season three, but they want to continue with the Harley and Ivy relationship more than getting the Joker a girlfriend. As it should be.
Unicorns, encores and aliens … oh my!
We love our whacky timetraveling dipsticks (seriously they are). In fact, they're so silly the panel started with a blooper reel, which included…. that kiss scene. So here, the gif I know you want.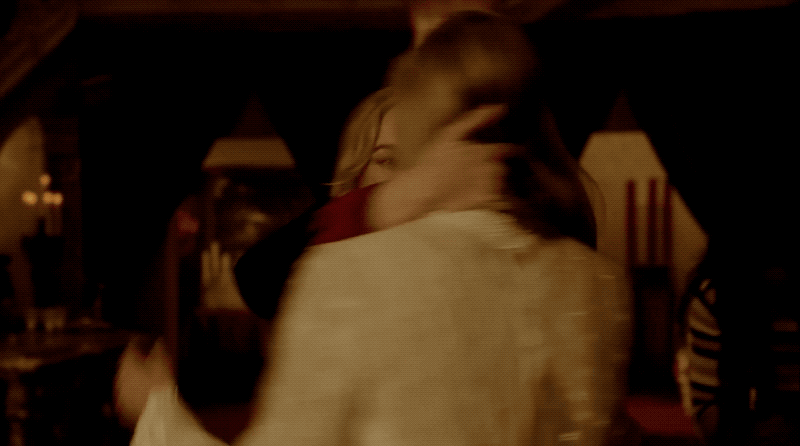 Great! On to the rest, which is no less goofy. Like… Season five was a lot about Sara and Ava learning how to co-captain, so what's next? Do Sara and Ava have a five year plan? Jes Macallan (and probably everyone else) is sure that AVA has one. A very detailed one. Jes thinks "[Ava]'s just trying to domesticamicate [Sara]." And Caity Lotz confirms Sara just lives in the moment.
The cast loves the weird stuff just as much as we do, though. And they loved the TV episode, where Caity was a Shatner-esque Kirk captain to Jes' Spock-ish version.
Coming in season six, Sara will be having her own, solo, adventure. This will be a departure from the normal ensemble endeavors, and the writers are looking forward to slowing things down a little. They'll be delving into their own version of aliens, so that'll be fun.
Things you'd want to know? While there's no musical episode planned, the cast is 100% down for it. Also they're all aware how special their show is, how weird and wonderful it is, and they don't take a single space-time second for granted. The writers do wish they could get an '80s episode, though, just so Caity can breakdance.
Us too, Legends. Us too.