It's time to look back on a month and get our May 2018 roundup.
14 shows added
61 characters added
7 characters died
Murder Lady Sunday
New shows and seasons are starting up on the non-networks shows, like AMC, BBC America, and Starz. I'll get back to that last one. Thanks to these new shows, we've got a new 'thing' – #MurderLadySunday – and it's pretty much what you think. We have ladies who kill (which is why we have some more dead characters) but we're kind of on the side of the killers. Much like we love our crazy Cheryl on Riverdale, we'll go to the mat for Tilda (Into the Badlands) and Villanelle (Killing Eve).
OMG! #RenewB99 Worked!
Can I pause for the happy stuff? Yes, let's. Brooklyn Nine-Nine was unceremoniously canceled by Fox. A day later, it was picked up by NBC, and we all rejoiced.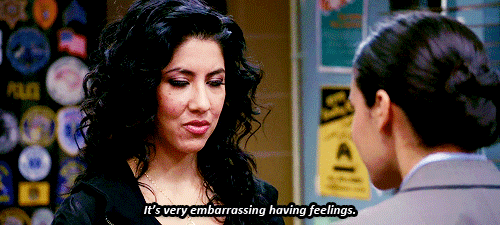 The same cannot be said of Lucifer or pretty much everything else that Fox axed. It was a damn bloodbath. Which brings us to …
Network Upfronts
For the first time, we were able to (partly) cover the upfronts. This is the time of year when networks drag advertisers out to NYC and try to convince them to buy ads. Weirdly, NBC is offering less space than normal, which I can't understand at all, but there you are. The big takeaways from the upfronts is that with the exception of The CW, no one was really … upfront … about having queer characters.
I find it a bummer that here we are in 2018 and we're still screaming at the networks for more queer regulars. Speaking of that. There was a story, optioned by Fox, called The Dime, about a lesbian detective. It vanished off the radar, and naturally I tweeted about it, trying to find out what happened. Lo and behold, the author of the book it was based on said Fox passed. They're still shopping it around, though, and we will rally the queers as soon as needed! I'm a sucker for a good detective drama.
Vida
I saved my new favorite show for last. Vida, on Starz, is blowing my mind. The story is about two estranged sisters who come home for their mother's funeral. Their mother owes a bunch of money on her building, the bar is going under, the books are a mess. Oh and she was married to a younger woman.
I'm a million percent team Eddy, but Cruz is my girl. I just adore her, and she's barely had any scenes yet. If you get Starz, please watch this.
This show is real. Watching the girls go through the trauma of a dead parent, and in ways want to hide and be the kids again, is incredibly poignant. The show runner made the effort to cast queers as queers, too, which deserves all the love in the world. Just … remember it's on Starz, so there are graphic displays of sex.
Statistics
We gave the statistics pages a scrub down and facelift: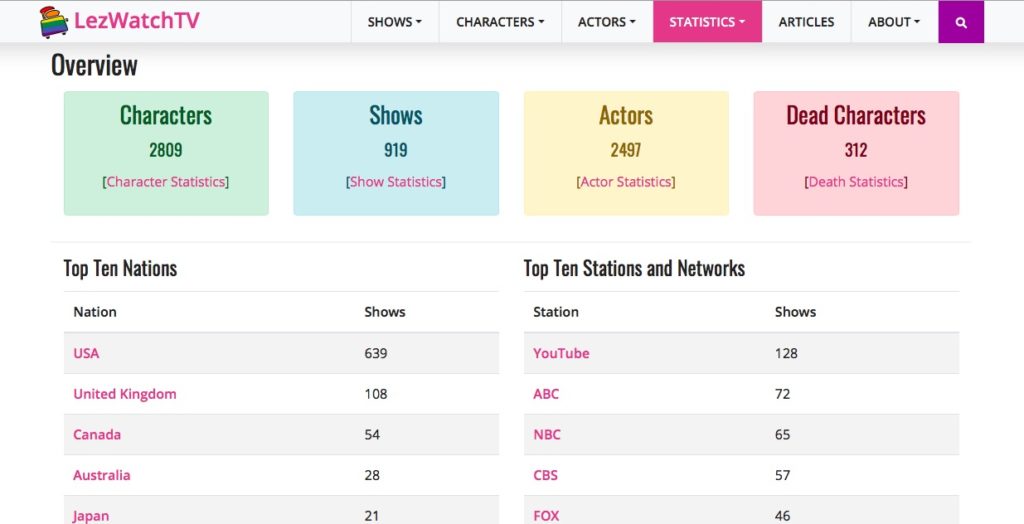 Not only has the layout been tightened and modernized, but the content has been organized better. No more wondering what 'barcharts' means when you're looking at the characters. Now you'll see a list of the topic of the statistics, and it will load pies and bars and lists for you on one page. Just want to know about how character sexuality is represented on TV? We got you.
What's Next?
What are you interested in? We love hearing about how people use the site and what we can do to improve the experience and the education of the world. And anything we can do to help you find yourself on TV, we will do our best.