In continuing coverage of Outfest, the West Coast LezWatch.TV team went to LA again for the showing of season two of a supernatural cop drama by Tello Films: Riley Parra.
What is Riley Parra?
My wife has never watched it, but I described it as 'a lesbian supernatural cop show with Liz Vassey' and she was immediately on board. I was intrigued by the show when I heard about it, since it's the kind of goofy sci-fi/fantasy stuff that's right up my alley. I'm a huge fan of things like Xena, Buffy, and of course Wynonna Earp, so I tuned in to Tello Films for some irreverent fun.
The premise of the show is simple: Riley Parra is a detective for the crime-ridden No Man's Land, a destitute part of town where she in fact grew up. Now she tries to be the cop the people need, but she wasn't quite expecting to run into angels, demons, and a smoking hot medical examiner, Gillian Hunt, who digs her. At the end of season one, Riley has survived her first battle with a devil, and has to figure out where to go from here, and how to bring Gillian along with her.
Season two picks up right after season one, and Riley finds herself balancing friendships, a relationship, and of course that pesky old demon who wants her, the champion of Good, out of the way. People aren't always who they seem to be in No Man's Land.
Made by and for LGBT
Tello Films was founded in 2007 with the goal of telling stories for the lesbian/queer community.
The story of Riley Parra was written by Geonn Cannon, who wanted to write a detective story that wasn't just a procedural. Inspired by a random song he was listening to, he crafted a world of angels and demons, pitched it to Tello, who grabbed it and ran with it. Christin Baker, the director, did not read the books before, instead choosing to take the script and adjusting the story for television.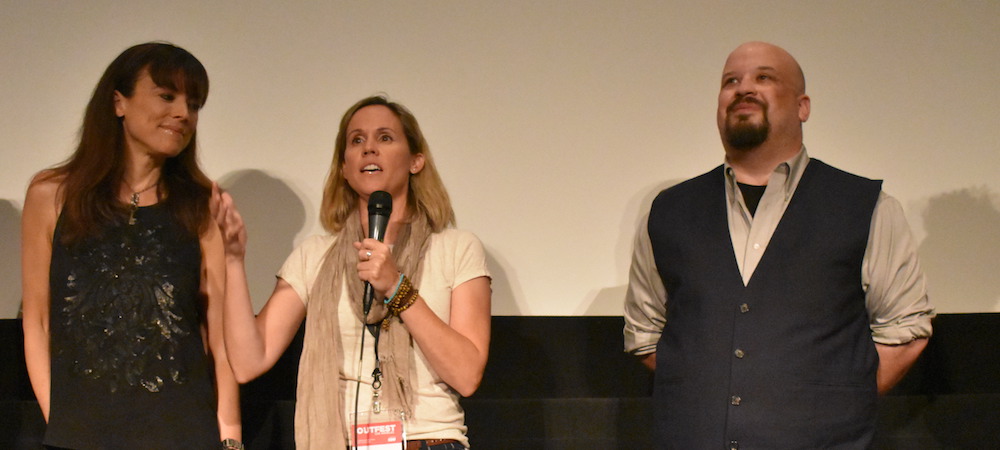 More than just making niche content, they want to monetize it, make it viable for people to create these shows we want to see.
I saw a need ten years ago, and I think there's still a need to support filmmakers and voices who aren't always heard. We're really lucky, now that they're not killing us all the time, to have a lot more representation on screen. But I think there's also a space for monetizing niche content.

— Christin Baker, Tello Films
Her small company works hard to let those voices have space, where female led stories can take shape. Where LGBT stories can have happy endings.
Behind the Scenes
While the cast isn't entirely queer, they are all allies who want to see more representation on television. They're also well aware of the political situation and the difficulties making a cop show in these times. The choice of casting Caitlyn Priest (who is white in the books) as a black woman was absolutely intentional, for example. And having the story address some of those situations, as much as you can in a 45 minute season, is complicated.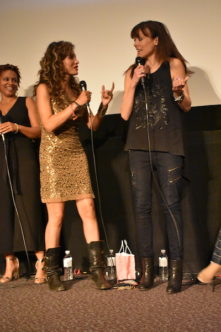 The cast also has amazing chemistry together, which goes a long way when you're talking about a show that has to stretch credulity. Angels and demons aren't always the easiest sell, but when a cast gels properly, it can make things as simple as an awkward hug or a run into a doorframe fit perfectly.
I spoke to Geonn (who has his own Patreon where you can read exclusive short stories) about the world. Important to me is that while I greatly want to see stories by queers of queers, I feel that there are writers out there who can and do write great works about people who are not themselves. I asked Geonn the secret to writing lesbian stories, when he wasn't one. It's a hot take, possibly revolutionary, but "Queer women are people," he said.
Star Liz Vassey and co-executive producer Kitty Swink talked with me for a while after the showing as well. We're all "Smurf blue" as Liz put it, so not only do we care about the world and the uncomfortable political climate we're in, but it's also inspiring us to do more and show more.
In reference to doing things like [Riley Parra], the writing was really fun, the cast was fun. Kitty's involved, and I'll do anything for her. But the biggest reason is because, and I've said this before in interviews, the fact that that pilot got out and has been watched so many times for Nikki & Nora tells me that there's not enough representation.

– Liz Vassey
We all ways better representation, positive non-death representation, and absolutely successful representation.
And season three? Yes. They're working on it now.
Subscribe to Tello Films
If you want to watch and support shows like Riley Parra, subscribe to Tello Films. It'll cost you about $55 a year, which is way less than Netflix and way more queer as well.
If you're a creator, they have an open Pitch to Production (available until August 1st) where you can submit your web series to them and get help making your story a reality.
This slideshow requires JavaScript.