There are a lot of awesome things going on at San Diego Comic Con, but the previews and sneak peeks about upcoming television are paramount to us.
Please remember, I can't give you spoilers. They made us promise, and I don't want to spoil you on these shows. But I can still give you a rundown on what I saw and what I think you'll like.
Batwoman
The show starts before Elseworlds, so we don't have Batwoman in the suit we know from the crossovers. That's okay, since origin stories for superheroes are de rigour in all tellings, even movies. The series suffers from the heavy hand of a network mandated voice-over, something the CW has clung to since it's UPN days when we used to tease it about the Veronica Mars Network Exposition Voiceovers. It's not fully needed, but it's normal for the show.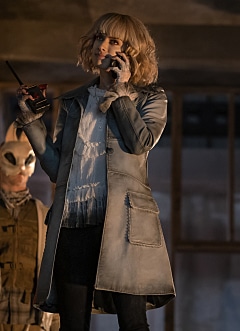 Batwoman is very much like Arrow in that regard. It's gritty, it's filmed a lot in Chicago which is a joy for me, and they don't shy from the dark parts of the universe. The action sequences were good and held up well, as did the acting. I felt like Luke Fox was heavily edited back from filming, but I suspect we'll get a lot more of him later.
As for your fears about Ruby Rose? Chuck 'em. She understands how to play conflicted Kate Kane, and balance the "I need a lozenge" voice all superheroes use with the absurdity we all feel when they do it. Rachel Skarsten steals the show, as expected, but Ruby more than holds her own.
Screener Review On Batwoman
If you can't tell, I think you should watch this! Fans of the comics, have no fear. This is a true-to-comics without being a same-as-comics retelling of the story, and is much closer to source than Arrow is.
Emergence
I wanted to like this more than I did. It seems a decent, middle of the road conspiracy procedural, with a sci-fi twist. But I have some doubts since it's on ABC. While the acting and the writing is great, I get the feeling they're trying to find something Shonda-esque to fill in for her missing rollercoaster, now that How to Get Away with Murder is ending.
Instead, they got a lighter fare than they may have intended. It matches well with The Rookie (the Nathan Fillion show), but I suspect the real target audience for a show of this depth and complexity isn't on ABC.
Screener Review On Emergence
A detective mystery with a sci-fi bend, ABC's series looks fun but may be too complicated for their usual audience.
EVIL
This is not a show to watch for the faint of heart. Brought to you by the Kings (of The Good Wife/The Good Fight fame) they delve into the psychological and, let's face its the super creepy. We're talking super creepy. Taking on the supernatural, the religious, the non-believers, and ghost hunters all rolled into one, the Kings do it with their usual panache and style. This is far less legal than their other shows, but has enough of the quick writing we've come to love.
For me? This show is too much. It's almost surprising that it's on CBS, as I thought it would be a better fit for Netflix. It matches well for people who like Dark Mirror and that kind of series. It's nightmare fodder for me, though, but I'm a well known coward when it comes to these things. If you like The Haunting of Hill House and The Good Wife, though, with a dash of Person of Interest and a jump out horror, this is for you.
Screener Review On Evil
A deliciously creepy Devil vs Daniel Webster tale. With great writing and acting, the only worry is if CBS's audience will tune in.
Nancy Drew
The modern retelling of the classic books is a very CW show. Like most of them, we get the thoughtful voiceover and the beautiful people. This take on the series is absolutely in the supernatural. Somewhere between Riverdale and The Chilling Adventures of Sabrina, it's an X-Files light adventure into a town that may or may not be haunted by a ghost.
The pilot has absolutely no queer, sadly. They have a character named Ace, but no one knows why and he's into Beth, the new girl. For me, the standout character is George. She's awesome and sassy and worth watching. I do have hope that the CW will follow their usual pattern and slip in a queer or two, but we'll have to wait and see.
Screener Review On Nancy Drew
A spooky take on the young adult novels, and well in keeping with the CW's current pastiche.
Pennyworth
If this had been a movie, I'd have liked it a lot more. But the balance of the show didn't do it for me. Characters swore too much, and out of place, which was funny but also jarring. The filming felt more like a steampunk noir thriller than a historical based period one, and the characters all felt very flat. It's possible it'll get better as it goes on, but I'm just not sure.
Screener Review On Pennyworth
With some hard torture scenes and no queer in the pilot, I'd call it a pass. It's a halfway decent caper series, but far too flat and dull for me.
Veronica Mars
I recently re-binged the original series. In retrospect, the show had it's rough moments with queer rep. There weren't a whole lot of queer characters to look up to and point at as good rep. Still, when I look back at the third season, of which the first half revolved around a serial rapist at school, I'm struck by how tight the storyline was. Every single plot and thread looped back around and brought us to where we should have seen the perp ages ago.
That's really the magic of Veronica Mars. The writing keeps everything so tight and honest, that us marshmallows will do anything to have a movie and another series. It's just well told, even when it's something you don't want to see. Having one more season is balanced on the knife-edge of delight and terror.
Screener Review On Veronica Mars
Coming back to Neptune is like coming home, complete with the worry that maybe you shouldn't have. For a show without any overt queerness in the pilot, it's still got some of the best writing and some strong female characters. Keep in mind, there are only two characters in the series who never really change: Veronica and Dick.