Back in 2011, streaming media offered a scant six original series. By 2018, we had around 160 actual originals on streaming media. These shows run the gamut from comedy to drama and everything in-between, meaning there are options for everyone.
With to boom of streaming media, we have nearly 500 scripted television series on air today. This is more than double the total shows in 2002 (182), of which 75% (136) were for broadcast (aka linear) networks.
The Second Golden Age
Since 2000, we have been in a so-called Golden Age of television. The original Golden Age began, according to The Television Industry: A Historical Dictionary, in 1947, with the show Kraft Television Theatre, and ended in 1957 with the last live show in the Playhouse 90 series.
Arguably a second Golden Age occurred in the 1980s, but more scholars agree that the true Second Golden Age began in the 2000s. French scholar Alexis Pichard argued it was born of the combination of multiple elements:
an improvement in both visual aesthetics and storytelling
an overall homogeneity between cable series and networks series
a tremendous popular success
Pichard goes on to contend this was the result of the changes begun in the traditional networks in the 1980s, and improved on by cable networks like HBO in the 1990s.
Climbing the Peak
Another name for this age is the more commonly known Peak TV. The LA Times reported the growth in TV happening today is predominantly found on streaming media, eclipsing linear network growth.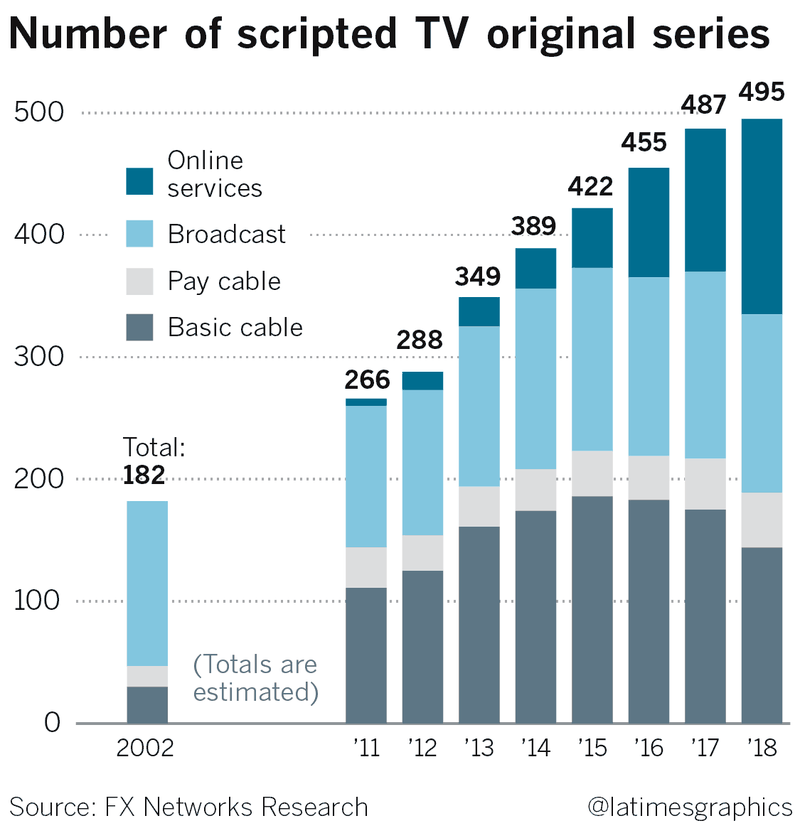 Looking at 2018 alone, however, we can see that of those 160 streaming shows, roughly 40 contain queer female, transgender, or non-binary characters. That's 25% of the shows. And studying the small increase from 2017, it's possible that peak TV is slowing down just a touch.
Practical Limits
Naturally that begs the question, have we reached the limit of Peak TV, and will we begin to see a decline in scripted television?
Certainly as a TV oriented website, we feel the pain of the sheer volume of shows to watch. Even if we only have to monitor a quarter of the shows, that's still 125 shows a year in the US alone. That's around 4000 minutes of TV, on average, per week. There are 10,080 minutes in a week, so you'd have to dedicate half your week to watching TV to keep up.
It's impossible. And this is why many people wonder if we've reached the practical limit of television, where there simply is no more room.
Some people worry that when the Peak TV bubble bursts, we will see a regression to white, less daring television. After all, we are now in the strange place where many new shows are reboots (Magnum P.I., MacGyver, Charmed) and many are continuations (The X-Files, Will & Grace, The L Word), while at the same time, fresh material is still able to find it's footing simply because we are permitted so many options by so many stations.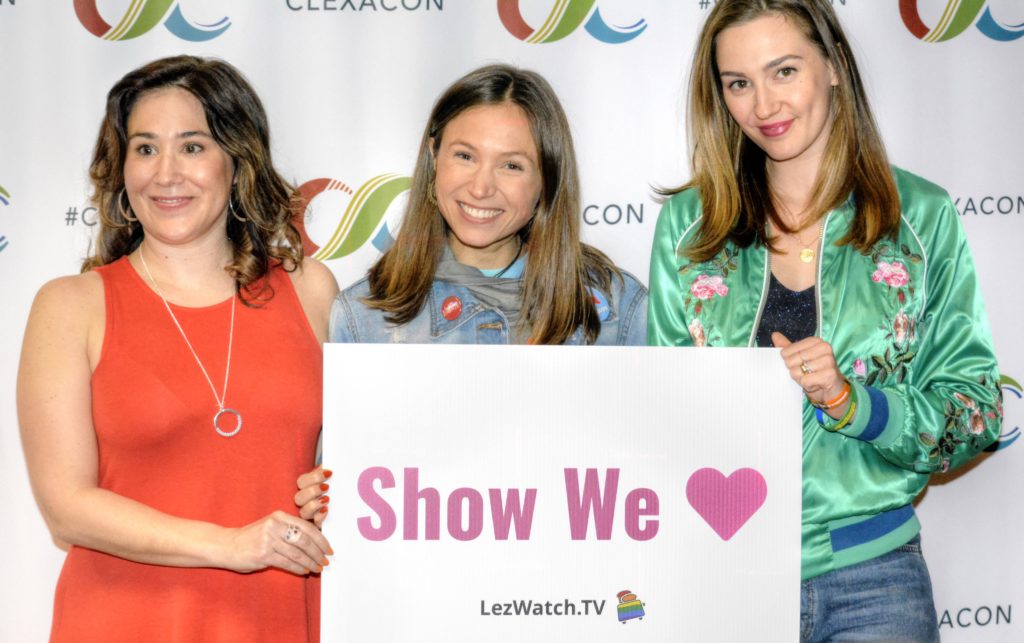 Some show runners, like Emily Andras of Lost Girl and Wynonna Earp fame, see it differently. They have hope for what happens next because with the expanding landscape, we have room.
I think the days of having a show that gets forty million viewers, like M*A*S*H, are gone. Networks are more in tune with the fact that niche audiences are where it's at, to be honest. There is an audience for diversity in different types of shows, and I think those are the shows that are getting attention. […] We need more different stories, I don't think the same type of stories, the same reboot over and over and over again with white dudes is going to work. The straight male anti-hero, I feel like we've all seen that show.

Emily Andras – ClexaCon 2019

The Landscape is Changing
The world is different than the original Golden Age. It isn't just that we have more stations and more possibilities, it's that we're taking those chances and telling the stories that would never have seen the light of day a decade ago. With queer content, we've stepped out of the shadows and shouldered the weight of success with aplomb.
Perhaps the end isn't that we will reach a limit of television. Perhaps the end is that there is no limit, and there will be a television show for everyone.