Welcome to Queer Beats, your weekly one-stop shop for queer television news! This week, Aisha Dee talked Kadena, Killing Eve got the attention it deserves, and the Legends of Tomorrow cast had Good Fan Fun at Fan Fest.
We are only a couple days away from the first Crossover episode! I can't wait, especially because Batwoman is now being promoted more heavily. Below, you can see she appears in the trailer multiple times:
She also (finally) got her own poster, too!
Finally, Melissa Benoist gave a super cute interview about Ruby Rose as Batwoman: 
On the topic of super cute interviews, I absolutely adored Aisha Dee's recent interview with nine.com. I highly suggest reading the whole thing because she talks about her close relationship with the other actresses on the show and even features some adorable clips of her as a child actress. Of course, I was personally the most interested in her comments about Kadena:
I've never really been part of a 'ship' that people are so voracious about. There are times when I'm not fully equipped and it's kind of overwhelming. But I think, in general, it's been really beautiful to see people embrace this couple. Because, it's so rare to see two women of colour in love, on TV, or in movies. So, I'm really proud to be, you know, one half of this thing that people are really vibing with.
I think it's been really special and there's some pressure involved there. I don't want to disappoint anyone, and I wanna make sure that we're telling a story that feels real. But, above all else, it's a story about love and it's a story about two women who genuinely love each other.
I'm glad she feels our support! She even went onto Instagram Live to make sure Kat/Adena fans know she hears us and was also emotional about Kadena at the end of last season:
Brooklyn Nine-Nine, which is returning on NBC on January 10, released this video where the B99 cast members are tested on their police knowledge. Stephanie Beatriz, one of my personal favorite (b)icons, blew everyone else out of the water:
Also, this isn't really "news" (as usual), but it was cute, so enjoy this photo of Melissa Fumero and Chelsea Peretti lovingly looking into each other's eyes:
Both Ellen Tamaki and Melonie Diaz blessed us with that sweet, sweet BTS content:
Thankfully, Sandra Oh is getting all the praise and recognition that she deserves. It was quite a week for her! She was named one of EW's Entertainers of the Year, as one of the hosts of the 2019 Golden Globes, and Killing Eve was named Best of 2018 by iTunes. On top of all of that, both she and Killing Eve were nominated for Golden Globes!
The Killing Eve crew even celebrated together!
Alright everyone! Hold on to your hats because, as usual, Legends of Tomorrow provided us with the most wlw content this week. I even had to leave some things out (although, personally, I don't think a 20-page Queer Beats would hurt anyone…). First, as I mentioned last week, half of the Legends cast took Fan Fest San Jose by storm. Jes met lots of cool fans:
And, of course, Caity met them too:
Courtney Ford even joined in on the fun to complain to Jes about her lack of autograph space on a show poster:
Meanwhile, away from the con, Jes reminded us of why we are all in love with her:
Finally, she posted this real cute picture of her with Caity and Tala.
For the Caity fans out there, she recently talked about Avalance and their role in the show. She spoke about how sometimes characters can get lost in their relationship but they are trying to combat that on the show. And I think they are doing a great job!
She also posted a dancing portrait and, to be transparent, anything to do with Caity dancing makes my heart swoon.
Now, I feel like I've kept quiet on my new favorite couple long enough. Truthfully, I usually avoid non-canon couples on Queer Beats to keep my focus on canon couples, but I am still convinced this could become a canon couple so let's roll with it. I'm talking about Zarlie, people. They have so much potential! Plus, we have gotten so much good content in the last couple weeks, both on and off screen. First, Tala and Maisie were both interviewed about the Zarlie connection:
And Tala posted multiple pictures including Maisie on Instagram. These are receipts to prove that I'm not crazy!
Anyway, back to reality, I want to give a shoutout to one of my favorite fandom creators, Paris. She creates custom Funko Figures for many wlw characters and, this holiday season, she created a bisexual pride version of Sara Lance. RT this tweet for a chance at winning her!
I don't personally watch Lucifer but this Instagram post from Inbar Lavi (with Lesley-Ann Brandt) is clearly the sort of thing that all wlw fans deserve to see:
And, for my final thought, if you watched Orphan Black, the fact that this picture (from Tatiana's Instagram story) made me cry shouldn't be surprising.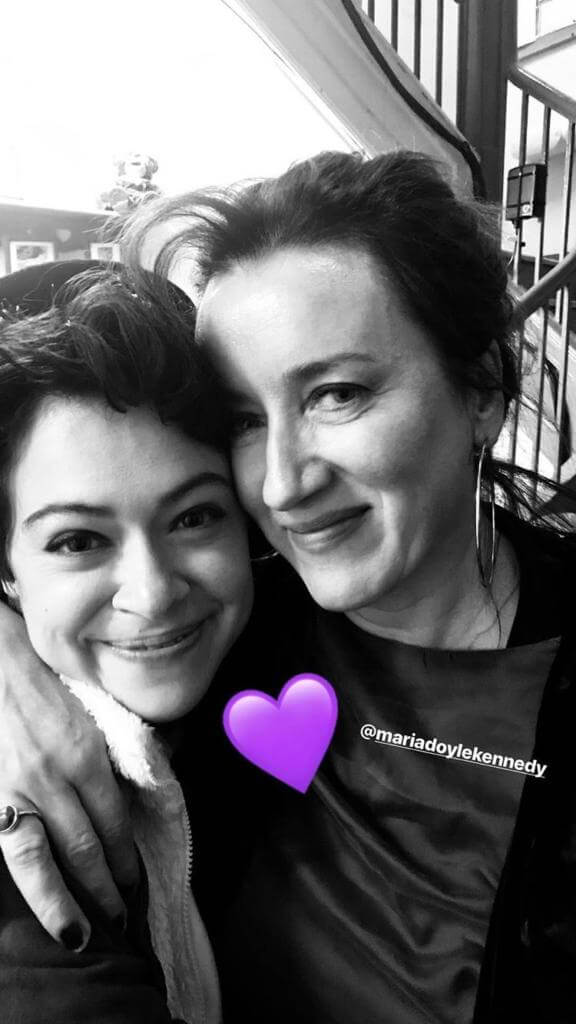 And that's it for Queer Beats this week! Always thorough, always professional, never random.