Through perseverance, luck, and a lot of help from my friends, I was able to attend ClexaCon London as press and panelist. If you follow our Twitter, you were inundated with tweets galore from the Haught Panel, as well as Jamie Clayton's and more. I did my best with photographs, and squeezed in a few interviews (though I was on stage when both Kat Barrell and Jamie Clayton were available).
What's ClexaCon London like?
Overall, ClexaCon London was a much smaller event than Vegas, with fewer guests, panels, and a smaller venue. In turn, it was far less of a line-con than people felt ClexaCon Vegas to be. Also everyone was exceptionally British, politely recommending we vacate the room after the last panel, thank you. Everyone was kind and friendly, as they are wont to be at such events.
Many people have said this before, and I won't be the last, but my god. Walking in to a group of hundreds of people who are all just like you – queer – is a feeling that cannot be compared with anything else. For the first time in forever I was normal. I'm an old hand at cons and panels, but this was the friendliest. To steal from the inimitable Ms. Jamie Clayton, I felt like I was surrounded by my people. I was the majority.
This is not to say it was perfect. I spoke with many attendees, two of whom in particular were autistic and felt the crowds to be overwhelming. Even with these smaller amounts of people, I was constantly bumping into folks and sprinting from panel to panel to press and back again. I still made time for lunch with fellow journalists who are now friends, as well as some love from Eragon, the official comfort pup.
But let's talk some more about what made ClexaCon London: 2018 so special.
Officer Haught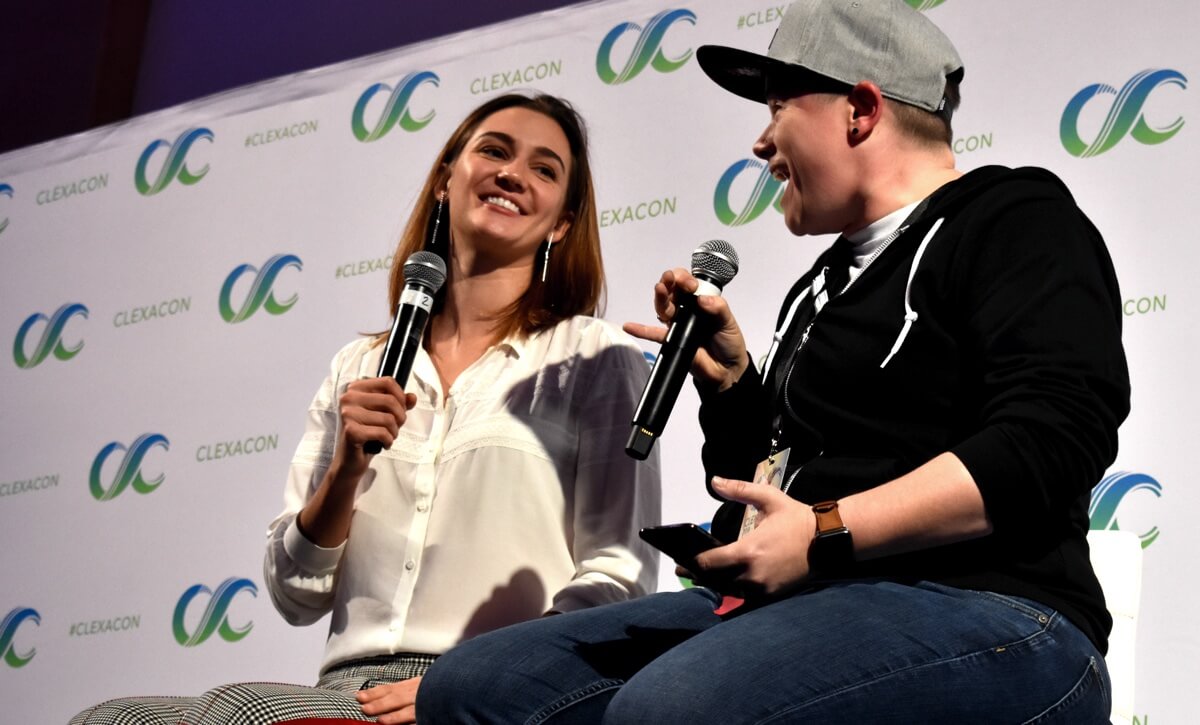 My friend Jess H-D was the interviewer for Kat Barrell's panel. It was Kat's first time on her own for Wynonna Earp panels. Kat divulged some secrets to us, like she was a film student before becoming an actor, and that she loves the Stetson. Don't we all?
Among other things, she confirmed that the cast finds out about the episodes week to week. They film two episodes at the same 'block' time, and find out what's new for their characters when they get the script. She'd wanted Nicole to have a nice family because she loves her character, but also adores Nicole and Nedly's relationships. My best tidbit for you? Kat missed out on firearms training before filming started, and her first scene was the one where she pulled a gun on Champ.
My favourite moment came when a fan asked what kind of dinosaur Kat would be and she said a brontosaurus, or the cute Petrie from Land Before Time. As one might expect, Kat is sweet and kind and loves her fans as much as she is loved.
Bisexual Representation in Media
There've been a lot of horrible people trying to remove the B and the T from LGBTQ+ these days, and frankly I'm having none of that. While we're all under the queer umbrella, we're all awesomely different. That's part of what makes us so great, our differences. As a lesbian, I'm aware of how the media's horrible portrayal of us for years is detrimental. I wanted to get better idea of how it felt being bisexual and how they see the media's portrayal impacting them.
Phoebe Kemp

Nicole Pacent

Heidi Lynch

Marie-Diane Grouchka (l) and Mariya Shcherbinina (r)
Two of the panelists were psychologists/therapists (Mariya Shcherbinina and Marie-Diane Grouchka) who spoke about the difficulties with treating queer patients as they can't disclose their own sexuality. They also run a podcast called Bi Positive. There was one of the lead actors from an upcoming series, Avocado Toast (Heidi Lynch – who made the web series about millennials being bisexual). She had just recently come out herself, and was surprised how few places just said the word 'biseuxal.' And of course there was the inimitable actor Nicole Pacent, who (among other things) has a podcast called Coming Out with Lauren & Nicole.
As one might expect, a lot of the media is filled with negative tropes. There's the promiscuous bisexual, the one who's just experimenting, the one who gets erased because she's with a man, the ones who always end up with men and never women, and so on. Accurate representation is hard to come by, and very little seems to make bisexuals feel like they're included.
We clearly need to to better, because we deserve better representation for all.
Jamie Clayton: Sensing the Need for Change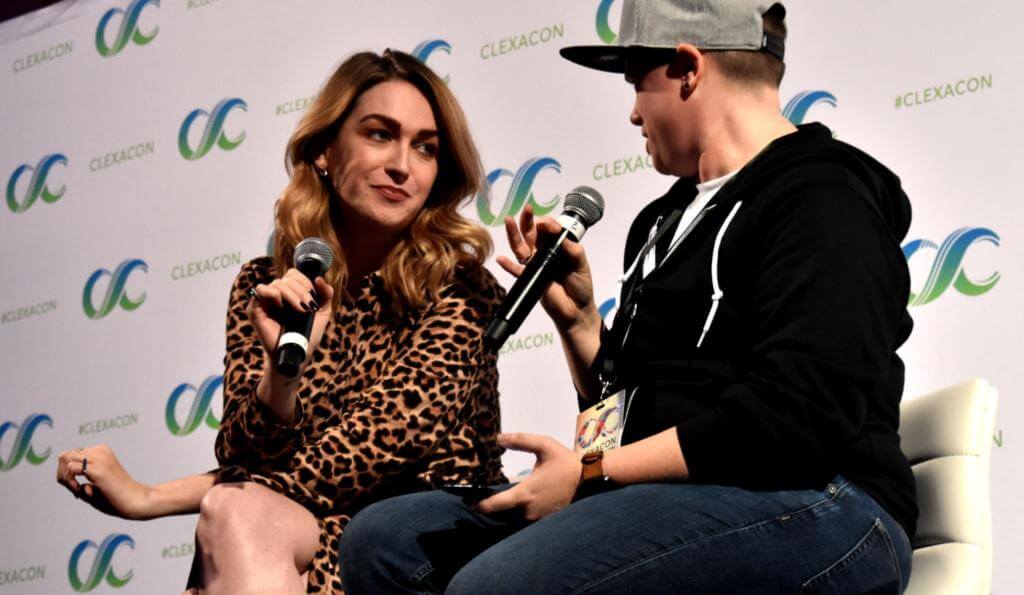 I have to preface this by saying much of Jamie is unrepeatable. Not because she says horrible things, but because she says so much so fast and is so quotable that I couldn't keep up! She's funny and bouncy and always moving. A laugh a second and if I didn't adore her before, I would now.
Some things you perhaps didn't know about the most magnificent woman from Sense8? She was a makeup artist before she went into acting, and after Sense8 filmed, she went back to work in a shop because she needed the money. Jess mentioned she'd love to see Jamie in a shop now, and Jamie delightfully informed us she could sell anything to anyone.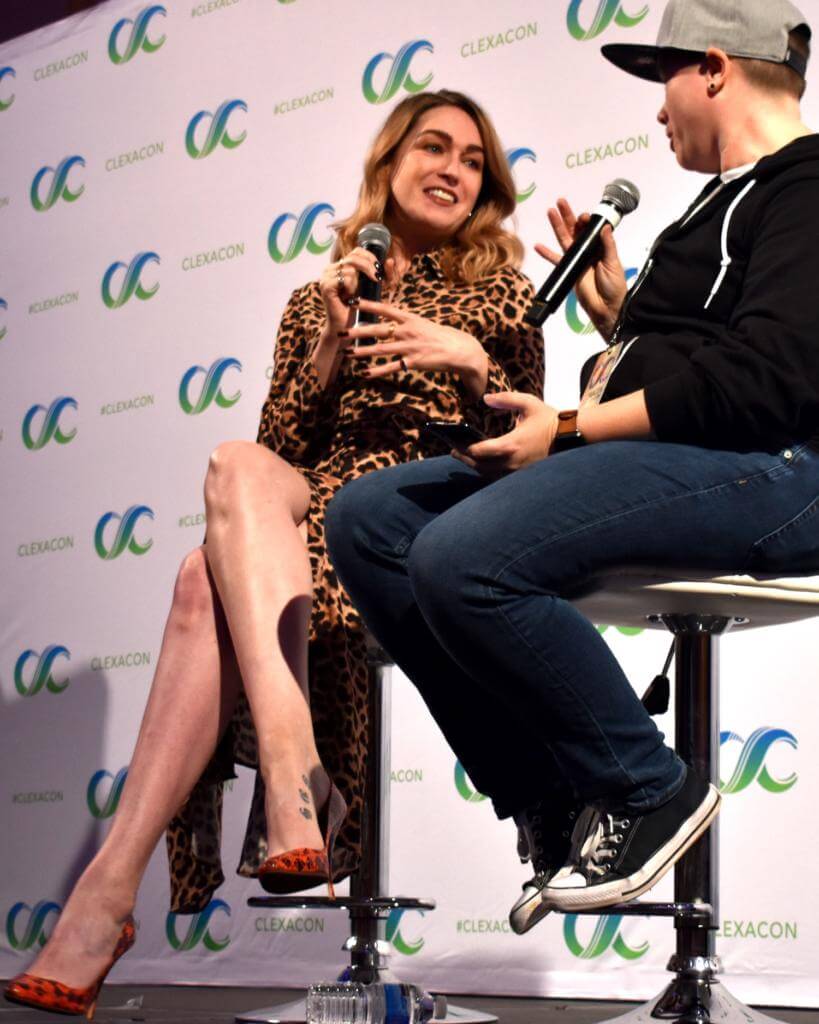 A fun tidbit for you, live-tweeting Jamie got me locked out of the Twitter account until I swapped back to my US number. Apparently I was tweeting too many photos and too much abnormal content. Oh Twitter!
Jamie Clayton is a national treasure and a sight to behold. She's easy to talk to, warm, caring, and an amazing actor. I can't want to see more from her.
I Can't Think Straight: 10 Years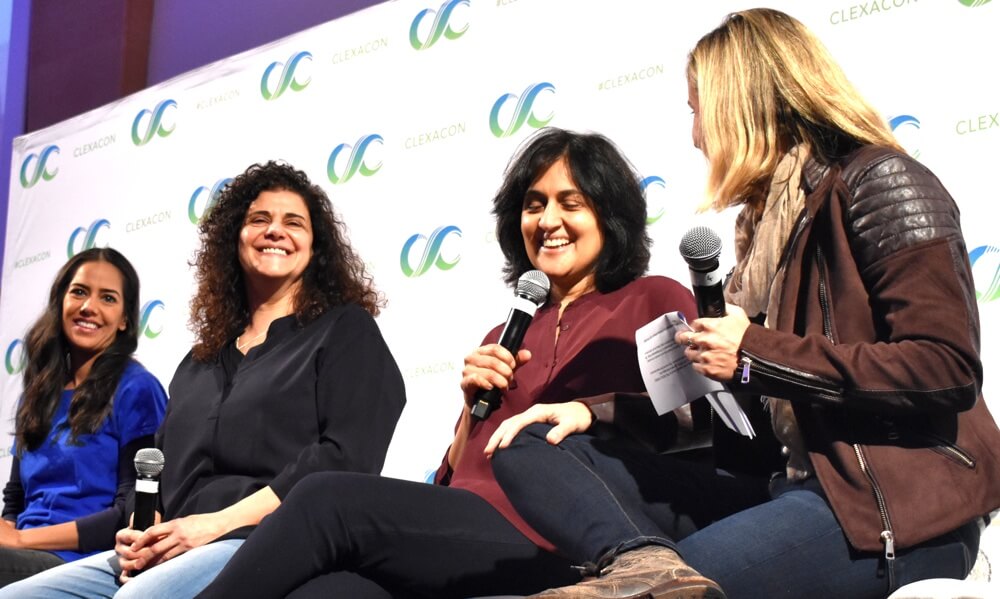 Can you believe it's been ten years since Shamim Sarif and Hanan Kattan groundbreaking film arrived? Along with star Sheetal Sheth, and panelled by Christin Baker from Tello Films, the trio told us about the difficulties that went in to making a movie that people wanted nothing to do with. From insane and incredibly creepy procuders/investors, to hotels refusing to let them stay, it's honestly a miracle that the movie was made at all. Just as Shamim and Hanan's life can be a movie, their movie could be one as well.
Beyond just the making of the movie, they told us about their lives and how they were changed by this one film. They told us what they we looking forward to working on next. Shamim wants to have her next novel, The Athena Protocol,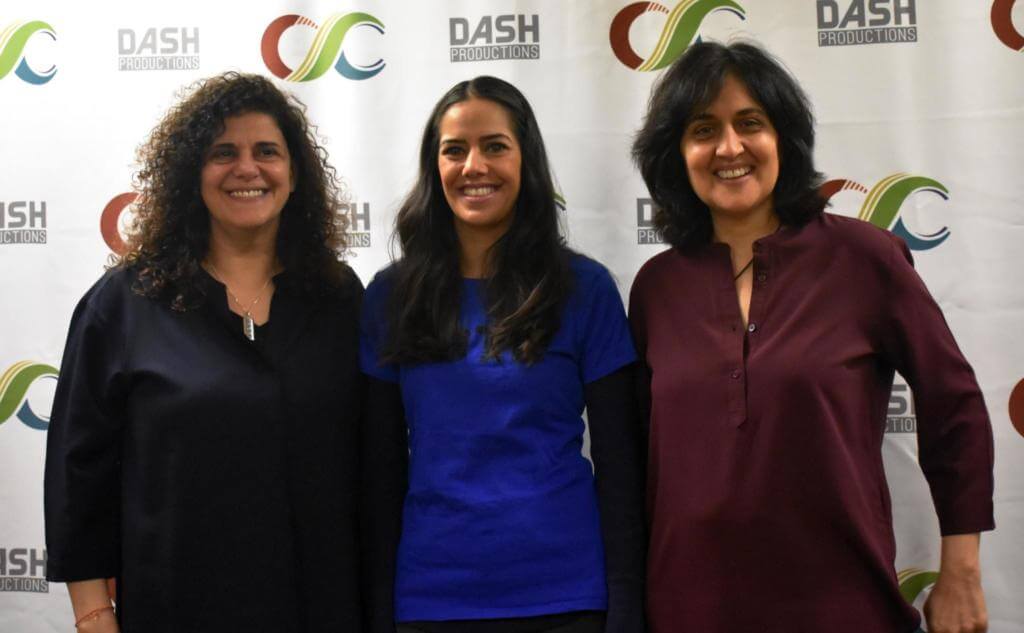 As both Shamim and Hanan are queer, I took the opportunity to ask them how they feel about the importance of queer actors playing queer roles. They both feel the matter is complicated. Yes, queer actors should play queer characters, but they shouldn't be limited to just those roles. Indeed that is the problem that many trans actors face, where they are often barred from cisgender roles. In addition, Shamim pointed out the more annoying issue in Hollywood today.
On a practical level, for sales and distribution, sometimes people want a name. And if the only name you can think of is Kristen Stewart and she's busy that moment …

Shamim Sarif
The main problem being there aren't enough queer actresses with high profile resumes to front as needed for a film. Yet.
LGBTQ Actresses
Helen Oakleigh

Mandahla Rose

Nicole Pacent

Victoria Broom

Alicya Eyo
I've been to a lot of conventions. I've been to a lot of ones for work and for fun. I've never seen a panel on the main stage with four openly queer actresses. Mandahla Rose, Victoria Broom, Alicya Eyo, Helen Oakleigh, and Nicole Pacent talked to us for an hour about what it's like being out and still working.
For Alicya, who was on a soap, there was normalizing about being there. Alicya told a story about how an older woman came up to her in a store and was happy to talk to her, regardless of her character's sexuality. It just didn't matter. But even so, after Alicya was on Bad Girls she wasn't easily employable, even though she wasn't out. Later on, when she did Emmerdale, she came out of her own accord.
Victoria thinks it's most important that if a series or film is about queer characters, it must have a queer person working on it. Period. She actually now asks this when thinking about what to work on. But also she was very lucky in being cast on Marcella, as she'd not known her character was queer until reading the script. More over, the character was treated like every other character, gay or straight. That said, she really wanted to play Batwoman.
Lucky Mandahla noted that 10 of the last 11 projects she worked on were queer. And she's always been out. After Helen came out, she was told that she'd have a hard time getting work. Spoilers? She didn't. She did work on stage a lot, but she paved her own, amazing, way. As for Nicole, she came out post The L Word,
Nicole Pacent and Mandahla Rose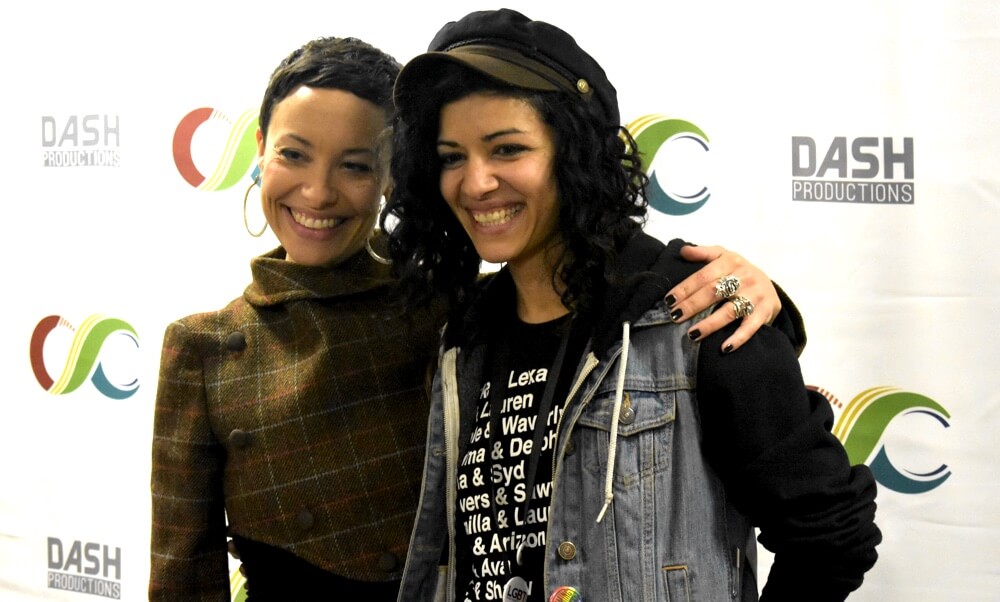 By the way. These two were all over the con. From crashing the trivia night on Saturday to being on multiple panels to spending hours and hours on the con floor just being with fans, I felt like every time I turned around, I saw one or the other. Nicole even interviewed con-goers for  her podcast.
They both told us some very from the heart, personal stories, like Mandahla was a foster child and tried to take her own life. But by telling her story, her truth, she helped give a younger fan hope and a longer life. Mandahla is also working on a pair of webseries: Passage and BIFL, both of which we're greatly looking forward to. Nicole is also on Passage, and working a lot in more podcasts than I can even enumerate, and a play called Love Octogon.
On the LGBTQ Actresses panel, Nicole said she had a lot of feelings about the importance of openly queer actors to play queer characters. I asked her about this and she expressed the complexities of people portraying characters outside their own factions. It's different than the more obvious clash of not playing someone of another ethnicity.
In terms of LGBTQ characters it's hard. I have two hearts, two minds about this. […] there's nothing like someone who actually knows [what it's like to be queer] to be able to do that. And I love the fan reactions that I see to queer people playing queer characters. […] I think that there's a real power in that, that there isn't necessarily when heterosexual people — hetero cis people — play queer characters. From an impact standpoint, I think that more queer people playing more queer characters is the way to go.

Nicole Pacent
But Nicole also feels that from an artistic standpoint, they're actors. And they should be able to play whomever they want to play.
I do like to believe that as actors, our job is to be able to transform and to be able to embody different people and different experiences. It's part of how we gain empathy ourselves and how we maybe loop those who are more closed minded into things.

Nicole Pacent
Mandahla feels there's a very fine line, because if we say queers should play queers, then the reverse becomes straights should play straights. But most importantly she said
We're more than our sexuality.

Mandahla Rose
She can play straight, she has that talent, and that's important. But it's equally important to have queers play queers because of how rare it is.
Different for Girls: Helen, Alicya, and Victoria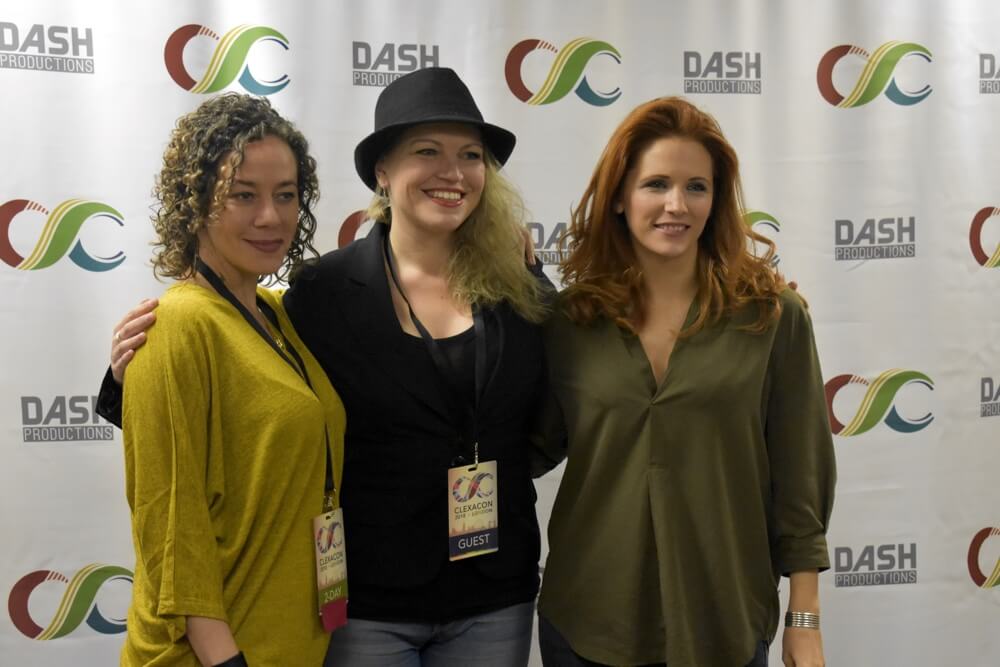 The other three actresses on the LGBTQ panel are also in a series together called Different for Girls. I asked them about how they felt queer media on television had changed in the last few years. They all noticed it had changed for the better. They had characters in staple shows (like soaps and regular dramas).
For those characters to go from being non-existent to being token to be being "Well that's a bit bigger" to having a few scenes, maybe even a view episodes and slightly more and more rounded, to now. We're starting to get the first shows which are mainstream, which have characters who happen to be gay and it's not about them being gay.

Alicya Eyo
They all felt it needs to go further, but they're delighted to see how far it's come and how much it's being normalized. Victoria was so excited that her character on Marcella was lesbian that she shouted on the airplane.
The more British television I watch, the more queer characters are showing up. And so it should.

Victoria Broom

I noticed they all wanted to play darker, grittier roles. That felt strikingly at odds with one of the reasons their show was made. That is, Different for Girls was created out of frustration of seeing so many queer characters die. When I asked how they balanced that, Helen Oakleigh took the lead.
When it's a straight drama, you can do anything you want and you get the more interesting characters. But when it's a queer drama, you've got a responsibility to represent people, because they've not been represented before. It's very important you give that justice. If you go in as the serial killer or torturer who's doing this and doing that, that's what all queer people are like. You're not saying that. It's just a drama. If you've got lots of queer dramas then you can play the whole spectrum of roles.

Helen Oakleigh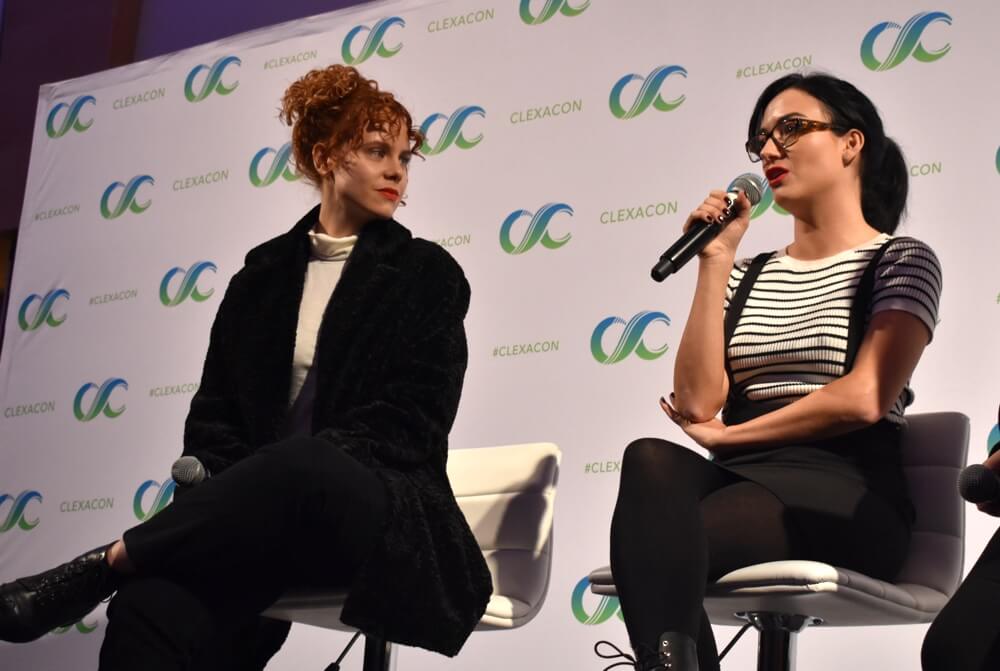 Finally it was time for the last panel, Annie Briggs and Natasha Negovanlis. They just had absolute fun. They're such good friends and such wonderful people, and their love for each other showed.
At audience Q&A, our friend Joe asked about their favourite scene. Instead they told the story about their favourite behind the scenes moment. Being a poor web series, they sometimes had to rely on favours and borrow sets. One of the sets they used was from Frankie Drake (which is an excellent series) and Nat and Annie were sitting in the set bathroom (not a real one). As they were there working on lines, giggling about being in the bathroom, Annie started laughing more and more. When Natasha asked why she'd lost her chill, Annie pointed down. There, in the toilet bowl, was a turd. Was it real? Was it fake? They didn't know.
I can't explain this any more than they did.
The End of ClexaCon London: The Christmas Special
And then it was over. We laughed. We cried. We hugged. We absolutely took over the bar and lounge afterwards, but eventually we all made our ways to homes and beds and sad goodbye to a wonderful two days in London.
Thank you, ClexaCon, for such a wonderful pop-up event. I can't wait to see you all again for Season Three in Las Vegas this April!