It's been a wild weekend with cancelations, pick ups, and web series.
For the uninitiated, the concept of network 'Upfronts' are just weird. It's basically a week where the networks announce all the things they're keeping, cancelling, or picking up. They do this to get advertisers interested in what's on their networks, and get the monies. Which is a nice trick.
Now upfront are next week, which means this week we got to hear all about what was and wasn't getting picked up, and next week we'll get to actually see clips, trailers, photos, and more from what did get picked up. Here's your schedule
May 14 – Fox, NBC, Univision
May 15 – ABC
May 16 – CBS, Turner
May 17 – The CW
Now, on to what we know and don't know:
Rescued, Renewed, and Revived
I hope everyone's with me going hell yes about Brooklyn Nine-Nine getting picked up by (of all places) NBC!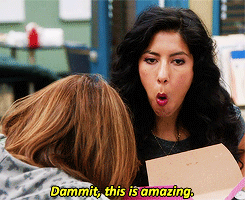 Apparently NBC studios made the show, sold it to Fox, and hella regretted it. Can you blame them? Weirdly NBC has not made a decision about Timeless yet. Insert some weird time-travel joke here. For what it's worth, Timeless has a regular queer lady character, plus it's incredibly self-aware funny. So, y'know, you should watch that if you like time travel stuff with a sense of humor and Goran Višnjić.
On ABC, they picked up basically everything made by Shondaland (except Scandal, which was a planned exit). This means Tracy gets another season of For the People. Also back will be Black-ish, but no word yet on Agents of S.H.I.E.L.D.
CBS? Well. They're CBS. We'll get more Good Fight and Star Trek Disco, but their other surprise renewals haven't been about the queer ladies so they don't matter so much here. Of course, my wife and I grumbled about how people don't appreciate Elementary, but that's another story.
Canceled (for real), or Passed Over
A lot of things got the ax. In fact we're at 27 US TV shows with queer rep getting canceled. That's large enough that I'm going to do math and make some charts to figure this out.
Important losses include:
I bet some of those shows were ones you didn't even know had queer rep. Which is important.
A lot of shows, like the remake of Cagney & Lacey, Chiefs (which a friend of mine was working on), and more were passed over. This sadly includes my hero, Gloria Calderón Kellett's History of Them.
It is with a heavy heart that I share this: HISTORY OF THEM will not be on CBS. I love this Latinx family & this inclusive friend-group both on & off screen. We're looking for another home for it — so keep those fingers crossed & send those good vibes our way!

— Gloria Calderón Kellett (@everythingloria) May 12, 2018
There is still a hope for these passed over shows, but it's a hard road and we wish them luck.
The Ongoing Web-Series Sagas
It should be no shock that LGBT work is still out there on the web more than network TV. So I'm going to slip in a nod to a new comedy series, THESE THEMS, which looks hella funny to me:
I need to figure out some alert system for all these shows…