Welcome to another Things We Love post!
One day it dawned on me that many of the things we absolutely love on TV are often things we don't like in real life. I don't know why TV has the magical power of turning something unwanted into something loved, but I'm not going to process it. I'm just going to enjoy it.
Here are the top 9 things I love on TV that I do not like in real life.
Drama


Big Proposals

Intimacy Issues

Bossy and Mean


Criminals

Weddings

Violence

Guns

Smoking
I'm going to end this Things We Don't Like in Real Life tribute with a GIF combining many of these items in a single scene. I know Betty Draper from Mad Men wasn't queer (outside of my dreams), but I love this clip from when she's shooting at her neighbor's birds while smoking a cigarette.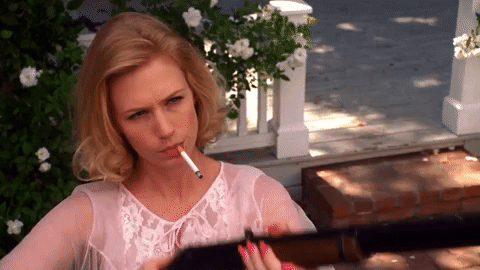 Do you have anything you hate IRL but love on TV? Let me know in the comments!